OrCam My Eye 2.0 is a small device that sits on the side of a pair of glasses. It's light in weight and about the length of a stick of gum, with easy connection to the frame of the glasses. The OrCam My Eye 2.0 is meant for anyone who is blind or visibly impaired. It has a 13-megapixel camera that takes a picture and relays the information back to the user.
The device can read text from books, documents, or even a menu for users. It can also recognize known and unknown faces for the user. For example, if it's someone you know, it will let say the person's name. If it's someone you do not know, it will either say a "man" or "woman" is in front of you.
My Eye 2.0 can also identify products and read barcodes for users when shopping. A few other features of the OrCam include color detection and the ability to recognize money.
My Eye 2.0 can connect to your phone securely; it does not save any information onto your phone, and forgets the information after it's been relayed.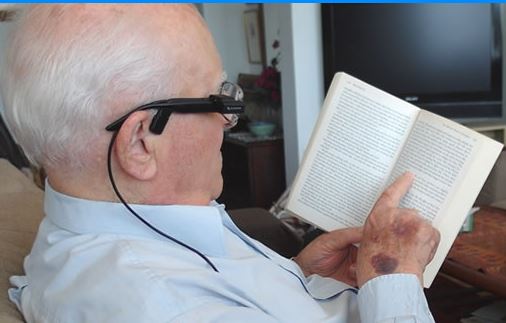 To learn more about the OrCam My Eye 2.0 ,you can visit OrCam.