Captioning Guidelines
Captions not only benefit those who are deaf or hard of hearing, but learning disabled students, ESL learners, those who are in a quiet public environment and don't have access to headphones (such as a library), and students in general. Also, captioning improves comprehension and retention of information for all types of students.
Timing and Positioning
One to three lines of text should appear onscreen at a time.
Each caption should be viewable for three to seven seconds.
Each caption should be synchronized with the audio.
Captions should not cover graphics and other essential visual elements of the picture.
Each caption should not exceed 32 characters per line
Style and Formatting
Use an accessible font (such as Arial, Helvetica, Veranda).
Use upper and lowercase letters.
Spelling should be accurate.
When there is more than one speaker present, identify who is speaking.
Use italics when a word is being defined or a word is heavily emphasized.
Numbers one through ten should be spelled out. Use numerals for numbers over ten.
Sound effects or any non-verbal sounds (such as music, laughter, or applause) should be captioned in square brackets.
Do not caption stuttering or hesitation.
source: captioningkey.org
Getting started with MovieCaptioner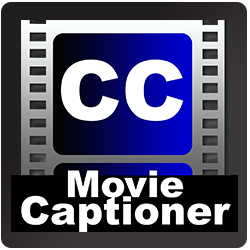 CUNY Assistive Technology Services provides an unlimited license to MovieCaptioner, a captioning software available to all CUNY faculty and staff. Contact Tania Kalaitzidis at cats@cuny.edu on how to obtain a license for MovieCaptioner.
Basic Workflow
Editing Captions Part 1
Editing Captions Part 2
Importing Text Files
Setting Timecode
Text Shortcuts
Using the Spellcheck
YouTube Captions