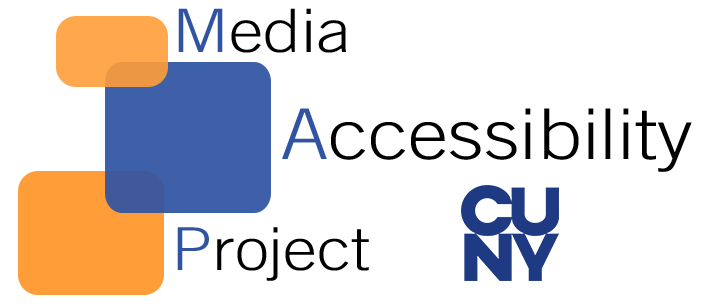 ---
Who we are
The Media Accessibility Project is a special project funded by the CUNY Council on Student Disability Issues (COSDI) to provide training and engage with faculty, instructional designers, and other content producers to maximize accessibility in online, hybrid, and traditional learning spaces and courses.
What we do
Provide training and resources on:
Creating accessible audio/video content, which includes closed captioning and transcripts
Creating accessible digital documents, such as Microsoft Word, Microsoft PowerPoint, and PDF

Documents for online course content
"As we gain more insight from our CUNY campus surveys and service requests, the Media Accessibility Project will refine its delivery of services along with the establishment of online and face-to-face training resources."
MAP is CUNY's source for best practices on accessibility! Visit the MAP Resources web page for how-to guides and training manuals on accessibility.