As with any spoken language, learning American Sign Language (ASL) can be intimidating, but for instructors of deaf and hard of hearing students, it's a necessity. Fortunately, learning ASL is not all that difficult, and Software Studios' ASL apps make the process simple and engaging.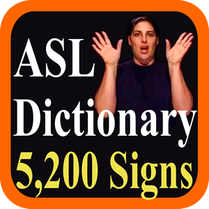 The ASL Dictionary app contains video translations of over 5200 ASL words as well as many key phrases and idioms. Each video has options for looping and slowing down play so that users can learn each word at their own pace. Available in both standard and high-definition video, the app is compatible on iOS and Android platforms as well as e-readers like the Amazon Kindle and Barnes & Noble's Nook. The app delves into the overlooked complexities of ASL, including the multiple signs given to words with multiple meanings and signs that numbers have depending on how they are used (money, time, dates, etc.)
In all, Software Studios provides a comprehensive course in ASL that will benefit instructors and students alike. And, with a $4.99 price tag, it's a lesson that won't hit the wallet.
Check out some helpful video tutorials below and at the ASL Dictionary website.