Harpo's Braillepen is the latest and one of the most impressive advancements in accessible technology. This portable device can make any computer and mobile device accessible to blind people who can read Braille.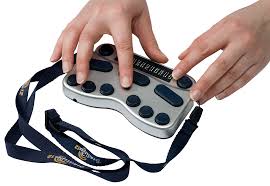 All Braillepen models—including the new Braillepen 12 and the smaller, more portable Braillepen Slim—can connect to laptops, netbooks, smartphones and tablets through Bluetooth. Once connected, Braillepen allows users to type in six-point Braille or into a Braille translator.
Each Braillepen comes with six Braille keys with which to type out letters, three larger keys that work the essential function keys on the keyboard (Enter, Space, Control), and a multi-directional joystick at the center of the device. The larger Braillepen 12 has the added feature of a Braille display that displays text in documents and websites in Braille, as seen in the image above.
While Braillepens come with Braillepen Write, Harpo's own software that allows the device to function as a Bluetooth keyboard, the device is also compatible with various accessible programs, including JAWS, Brailleback, Talkback, Supernova, and Mac iOS VoiceOver.
Users worried about compatibility issues need not fear: Braillepens are compatible with many operating systems, including Windows 7 and 8, Mac OSX, and Android. For tutorials on how to connect and use the Braillepen with laptops and mobile devices, check out the video below and check out Harpo's website.