Video magnifiers, both stationary and transportable, that can magnify material up to 44 times their original size. By placing viewing material under a built in video camera the image is magnified while the individual user zooms to the desired enlargement; output is displayed on the attached monitor. Color, contrast and highlight features are available across different CCTV models.
Recommended Devices
A choice of full color mode, enhanced black on white, enhanced white on black, yellow on blue, and yellow on black
A range of brightness adjustments to eliminate glare and enable viewing in low light
Masking and Reading Lines
A compact, lightweight design — The ONYX Deskset 17 weighs a mere 12 lbs. The ONYX Deskset 19 weighs only 15.4 lbs.
A Find feature to easily establish viewing perspective on an image prior to zooming
A unique, pocket-sized RF remote control that, unlike typical infrared remote control units, does not need to be pointed at the camera to work
Focus Lock to keep an object or document crisp and clear when working or writing under the camera
Freeze Frame to provide ample time to carefully review or inspect images
Adjustable monitor height and tilt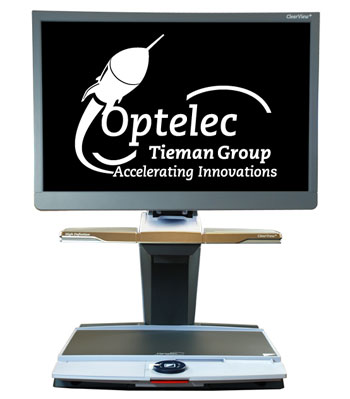 One-button simplicity control.
Average zoom range of 2.7X – 72X.
Always-In-Focus™ technology ensuring crisp clear focus on every image.
Adjustable monitor arm allows the user to position the monitor for optimal viewing and comfort.
Adjustable brightness.
Easy-Glide reading platform with electronic brake.
High contrast text reading modes.
Photo mode for viewing pictures.
Exceptional brightness/contrast.
Vibrant Colors.
Multiple light sources for even illumination while in-use.
Recommended for:
Individuals with Low Vision or other eye conditions.