For people with disabilities, it may be difficult to accomplish simple tasks like writing at an appropriate pace. It can come to a point where even typing or writing notes from a textbook becomes a hassle. It happens to the best of us too, sometimes. Wouldn't an alternative to solve this common problem be worth it? I think so. Let's check it out!
Your needs have been met! IRISPen Express 7 is the optical character recognition (OCR) device to help you write down your notes without actually writing down notes. It's a digital highlighter pen: you simply scan over any text, such as in textbooks or newspapers, and the pen will place a display of the content on your screen (whether they're words, numbers or images) while speaking the highlighted text at the same time. This resourceful pen allows you to not only display text into applications, but it also allows you to write in web editors or even text editing applications. So, you can definitely Tweet with this bad boy!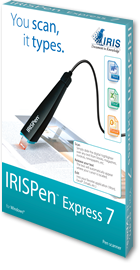 Its value in convenience surely matches the price range: starting at $99, who can get upset? The IRISPen Express 7 hits your pocket at $100 with many of the functions that I mentioned above. But, if you want all that the IRISPen has to offer, then their next plan IRISPen Executive 7 is only $129 and is probably what you're looking for. Here's what it provides:
*Note: This software is only applicable for Windows. Sorry, Mac users!
Translates scanned text in 55 different language
Speech synthesis – reads scanned text out loud in 55 languages
Reads and encodes bar codes
Recognition languages (OCR) of more than 130