It is best to create accessible PDFs by first creating the document in Microsoft Word, and then exporting as a PDF. This process ensures that there are no errors and retains accessibility. However, if you are scanning a document into Adobe Acrobat Pro, follow the guideline below for creating an accessible PDF.
Please keep in mind that when you are creating an accessible PDF using Adobe, it has to be within Adobe Acrobat, not Adobe Reader.
OCR the document to turn the text into readable, editable text

Provide alternate text for images

Ensure that hyperlinks have descriptive text and link to the correct website

If the PDF has form fields, ensure that they are accessible by Adobe Reader

Use the built in accessibility checker
---
Creating an Accessible PDF Using Adobe Acrobat DC
Text Recognition

In order for text to be read in a PDF document, it has to go through a text recognition process, also known as optical character recognition, or OCR.
To OCR the document, click on "Enhance Scans". Then, click on Recognize Text > In this file. After, click on Recognize Text. The text should now be accessible.
Note: A way to tell if the text in a PDF is accessible is if you're able to highlight the text.


Tagging the PDF

To tag the PDF in the correct reading order, click on Accessibility and select Reading Order.
After selecting Reading Order, the Touch Up Reading Order box will appear. Here, you are given options to tag text as regular text, headings, tables, and if there images in the PDF, you can tag them as figure. To start tagging, select the text or image by highlighting or drawing a rectangle around the content, then choose the appropriate tag. For instance, the text that appears to be the title would be tagged as Heading 1.
Adding Alternate Text
To add alternate text to an image, you first need to tag it as a figure. Go to Touch Up Reading Order by going to Accessibility, and then Reading order (instructions found in Tagging a PDF).
Double click or draw a rectangle around the image you want to tag, then select Figure. After tagging the image as a figure, right click on the image and select Edit Alternate Text. Enter descriptive text about the image, and then click OK.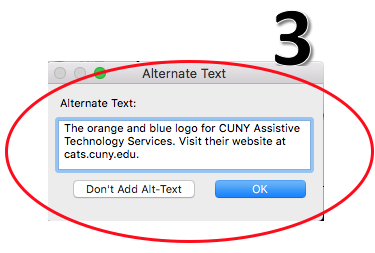 Creating an Accessible Link

To create an accessible link, highlight the text, right click, and select Create Link. For link type, you can have an invisible rectangle or a visible rectangle around the link. Also, make sure under Link Action that Open a web page is selected. Click Next to continue.
Enter the URL you want to link to, then click OK.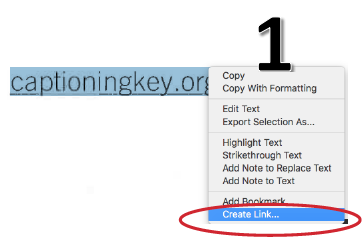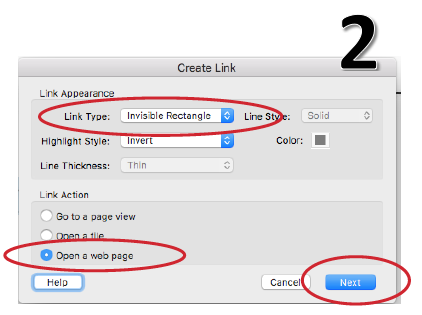 Accessibility Checker

To use the accessibility checker in Adobe Acrobat Pro DC, click on Accessibility, and then select Full Check.
After selecting Full Check, the Accessibility Options box will appear. Leave everything checked, and click Start Checking.
The Accessibility Checker will show you what needs to be fixed, can explain to you why it needs to be made accessible, and can show you how to make it accessible.